Free time
Do you like sports and you can't give it up on holiday?
No worries! Here is a list of sport centres where you can have fun and do sport!
Golf Club
Golf club "Vallugola - Tenuta delle Ginestre" (9 holes, along the panoramic route 359 in St. Bartolo Park, 3 Km) CONTACTS: Mob. 328 0390379 [email protected] - www.vallugola.it/golfclub Golf club "Riviera Golf" in San Giovanni in Marignano (18 holes, golf school, putting green, swimming pool, 5 Km ) CONTACTS: Tel.0541.956499 - [email protected] - www.rivieragolfresort.com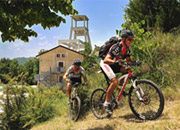 Mountain Bike
If you love riding your bike in fascinating areas with breathtaking panoramas, don't miss an excursion in the San Bartolo Natural Park! With your mountain bike, you will discover the best coves of the Adriatic Riviera or be fascinated by the park's natural beauties. INFO ON THE WEBSITE www.parcosanbartolo.it
Sailing
CIRCOLO VELICO GABICCE (SAILING CLUB) Walter Antonelli at Porto Baia Vallugola 61011 Gabicce Mare (PU) CONTACTS: Mob. 335 5226926 - www.decimazona.org
SCUOLA VELA CATTOLICA (SAILING SCHOOL) Qualified instructors with theory and practice lessons will introduce you to this exceptional sport. The love for sailing and open air life, boat races, the sailing art, young people… the sea and the wind all around: These are the main features of the "Sailing School" of the Yacht Club Marina in Cattolica. CONTACTS: Fabio 335 7370254 - www.yachtclubmarinadicattolica.com
Blu Nautica Service
Banana Boats –Inflatable Dinghies – Water Scooters – Canoes Rent an inflatable dinghy for a pleasant sea trip or have fun with our Banana Boat! If you prefer, choose among our canoes and water scooters... CONTACTS: Luca 348 2931903 - [email protected] - www.blunauticaservice.it
Parks
Acquario di Cattolica
This is the largest and most modern aquarium at the Adriatic Seashore. Underground connections are the beginning of a unique undersea experience. Here visitors start their journey into a new natural environment. Can you imagine more excitement than a direct immersion into the shark's tank? www.acquariodicattolica.it
Aquafan
This is undoubtedly the most famous water park in Europe. Daily during Summer it offers great fun on its wonderful slides and water games. Feel thrilled by its special afternoon shows and involving games as well as glittering night events! www.aquafan.it
Oltremare
This new park emotion offers really exciting exhibitions such as the lagoon with its dolphins, the Sea life Planet, the Earth, the Kingdom of the bees, the flight of birds of prey. www.oltremare.org
Mirabilandia
It's the huge Theme and Entertainment Park on the splendid Adriatic Riviera and one of the key parks of its kind in Europe. A jewel conjugating geniality and technology, the geniality of the most intelligent artists in the entertainment trade and the innovations of the digital world. It has a total of six theme areas and 47 fantastic attractions with 15 shows during the day and night. The second day enter FREE!!Info: tel. 0544.561156
Italia in Miniatura
Live a marvellous and otherwise impossible adventure in the most famous miniature theme park, exploring the cultural patrimony of Italy and Europe through the 270 perfect reproductions in scale of monuments and works of art. Stroll through the Venetian canals, visit the Colosseum and admire Vesuvius all in a few hours, this will really seem impossible to you. That is, if you've not been to Italia in Miniatura! Info: tel. 0541.732004
Fiabilandia
Ideal venue for all the family with over 30 attractions. Never-never land – exists and it's in Rimini. Peter Pan's bay, wizard Merlin's castle, the gold mine and the Apache village await you. And if nature's your passion the come and visit the Garden of the Forgotten Fruits and the Peasant's house next to the Old Farm where you can relive the age-old traditions of by-gone days. What's new in 2010: 3D cinema.